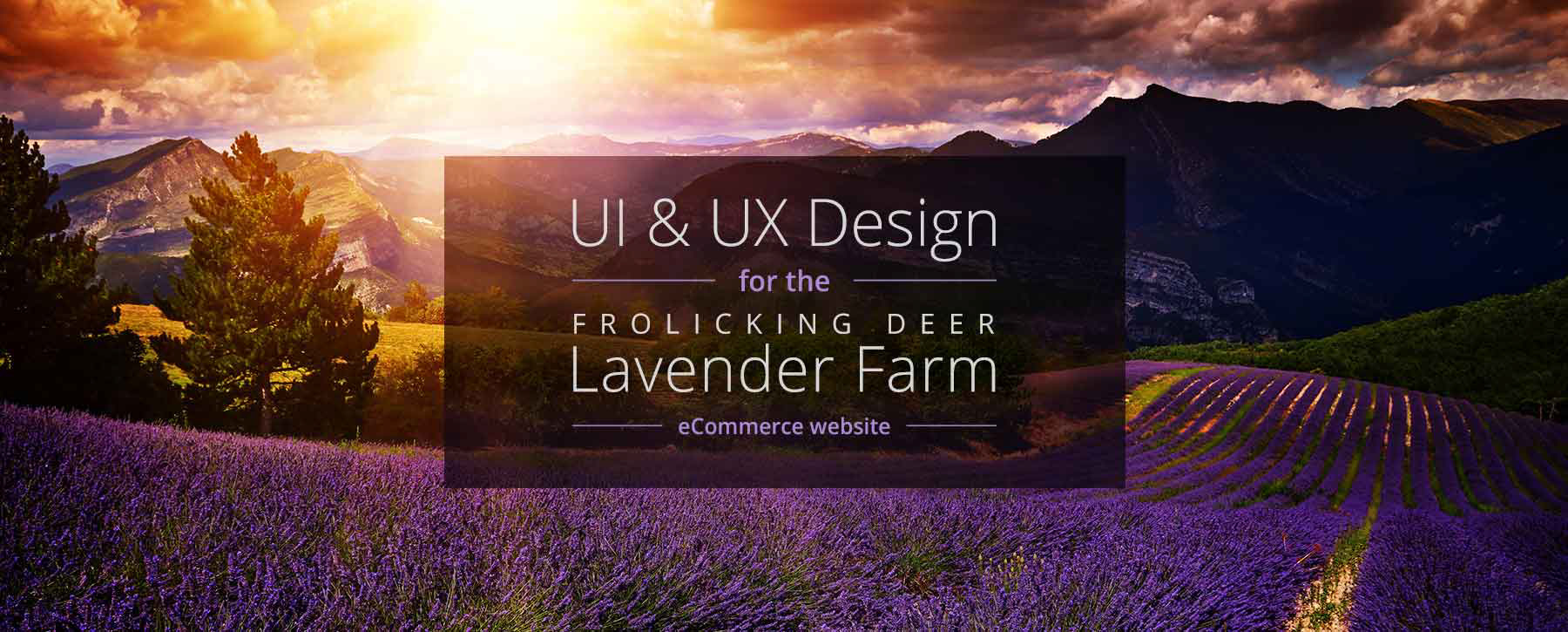 A few of the client's preferences for the site's look-and-feel were to convey:
- Southwest heritage and healing tradition.
- A western look crossed with the aesthetic of old-English and Neal's Yard (British merchant of organic natural health and beauty products).
- Ancient wisdom, modern science, and natural healing.
- A New Mexico sense of place (lavender is a fairly regional product).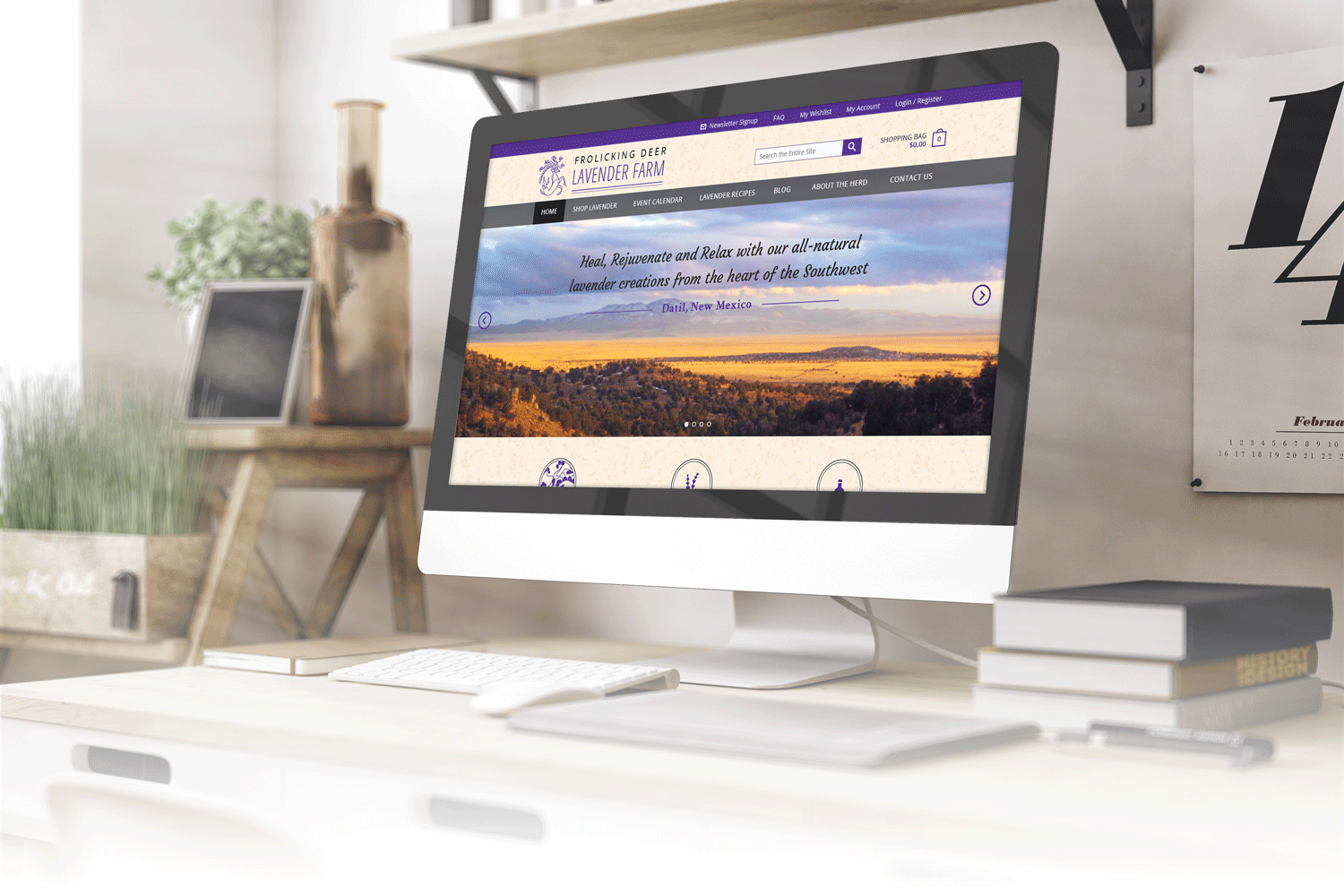 Once I distilled the lists of the customer's needs, business's goals, and client's wants, I had my primary aims for the site's design:
-

Portray "natural" and "healing" (two big things the target audience wants when shopping at Frolicking Deer), and to reflect New Mexico and the Southwest.
-

Appeal to the main target audience (older women and college-age people) with the
straight-forward
simplicity, photography, color and texture palettes, and typography combinations.
-

Convey trustworthiness and credibility to boost online sales and customer loyalty.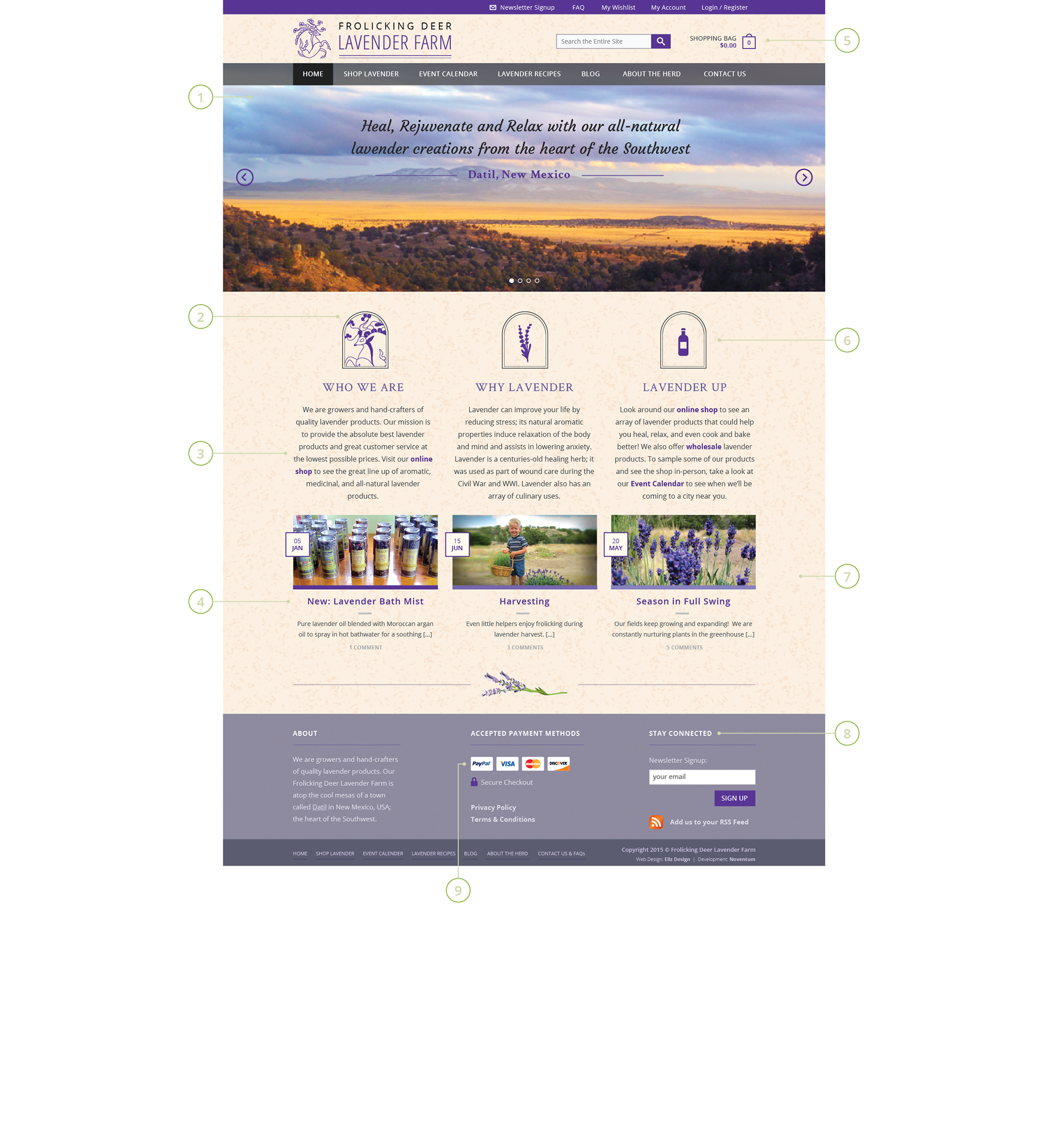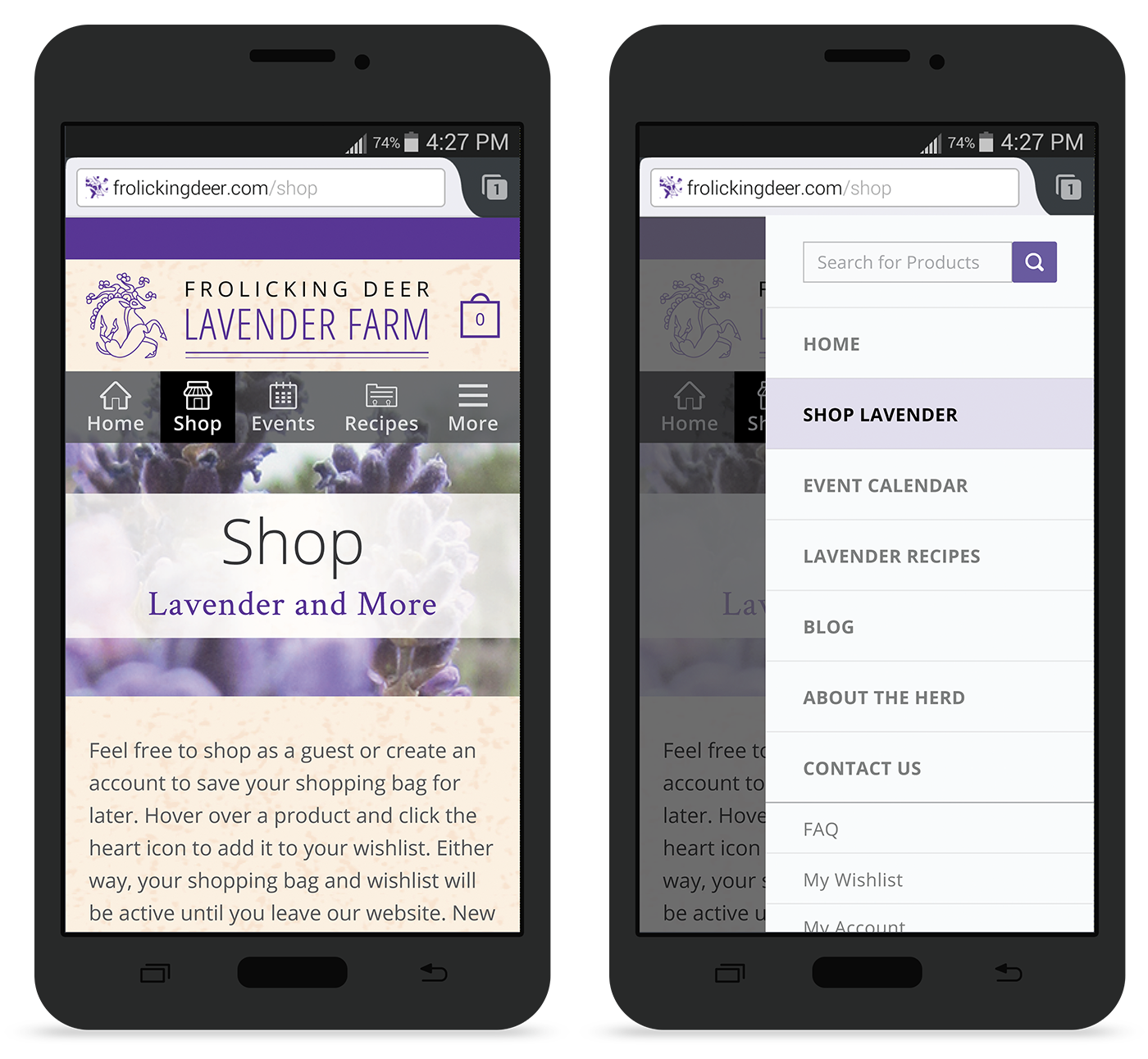 Instead of all 

menu items

 being under the ambiguous hamburger icon (3 horizontal lines stacked), the most-used navigation items are easily accessed from 60px, icon & label, touch points.
Tap 

More

 for a
slide out
 menu of all navigation choices. The slide out menu includes the primary and secondary nav. items (pulled from the main navigation menu on 
desktop
), and the tertiary nav. items (pulled from the top navigation row on 
desktop
), plus the search field.
Many usability testing results from the web industry reveal the various weaknesses of using a hamburger icon as the sole way to access the site's navigation (

deep.design/the-hamburger-menu

). A preferred solution is to use tabs (as shown here) and any additional nav. menu items can be accessed via a 

More

 link.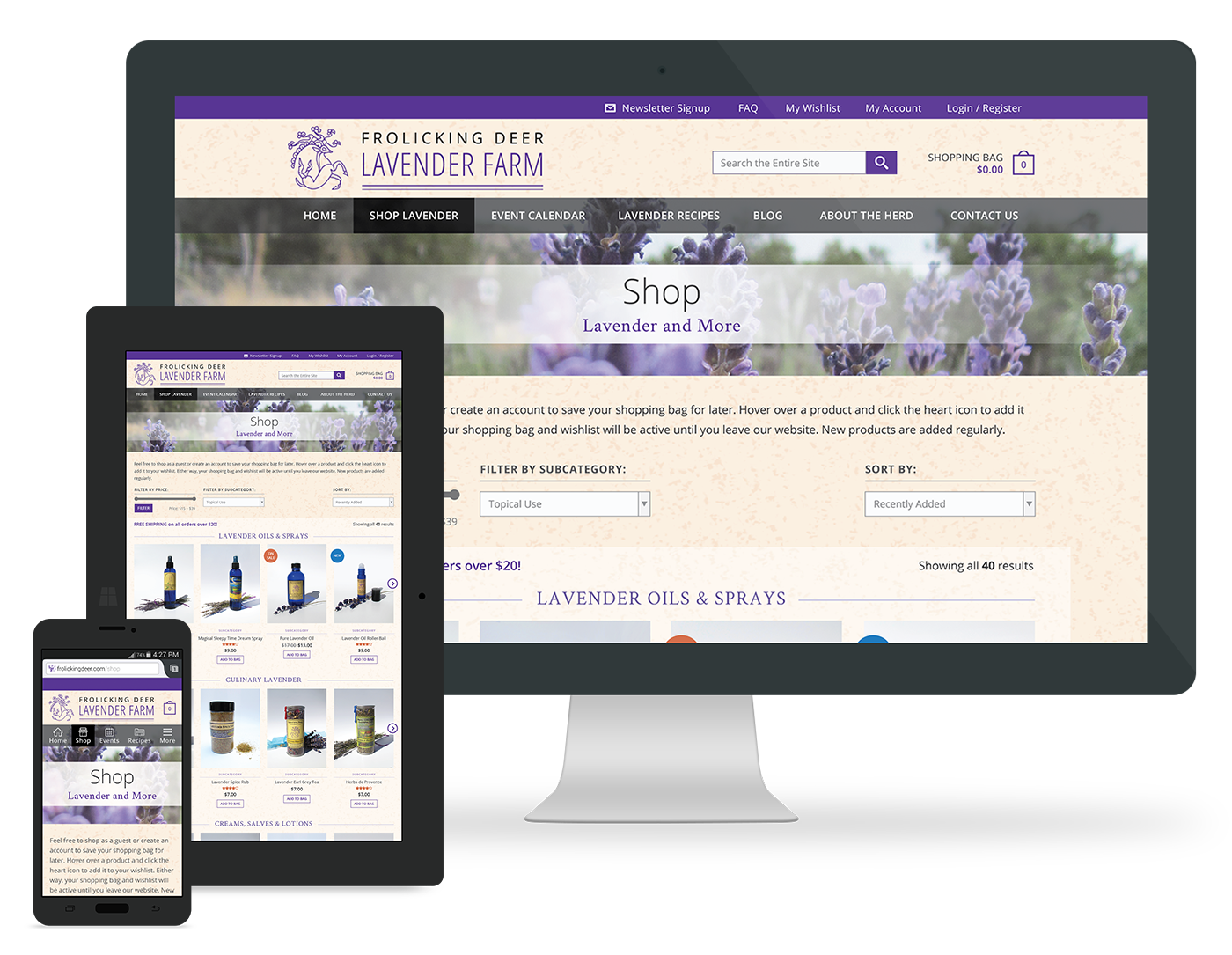 Interactivity on the product details page: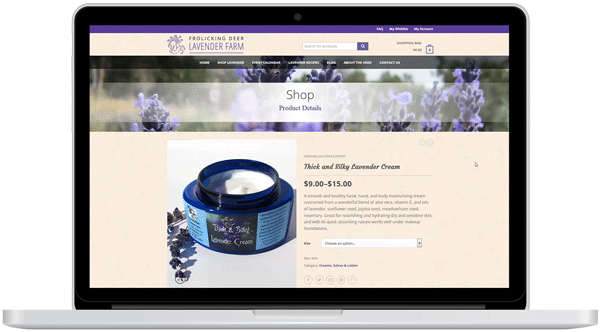 Adding a product to 

My Wishlist

: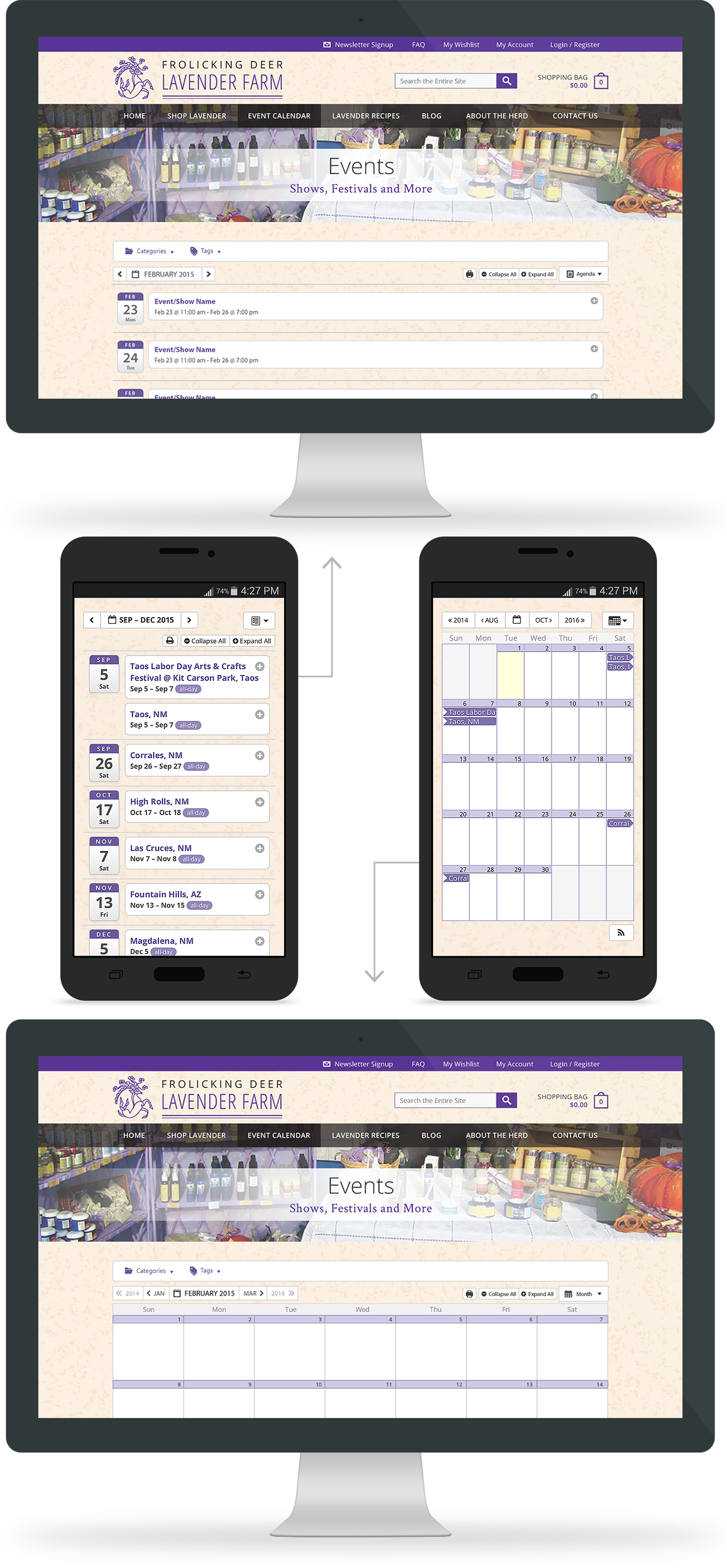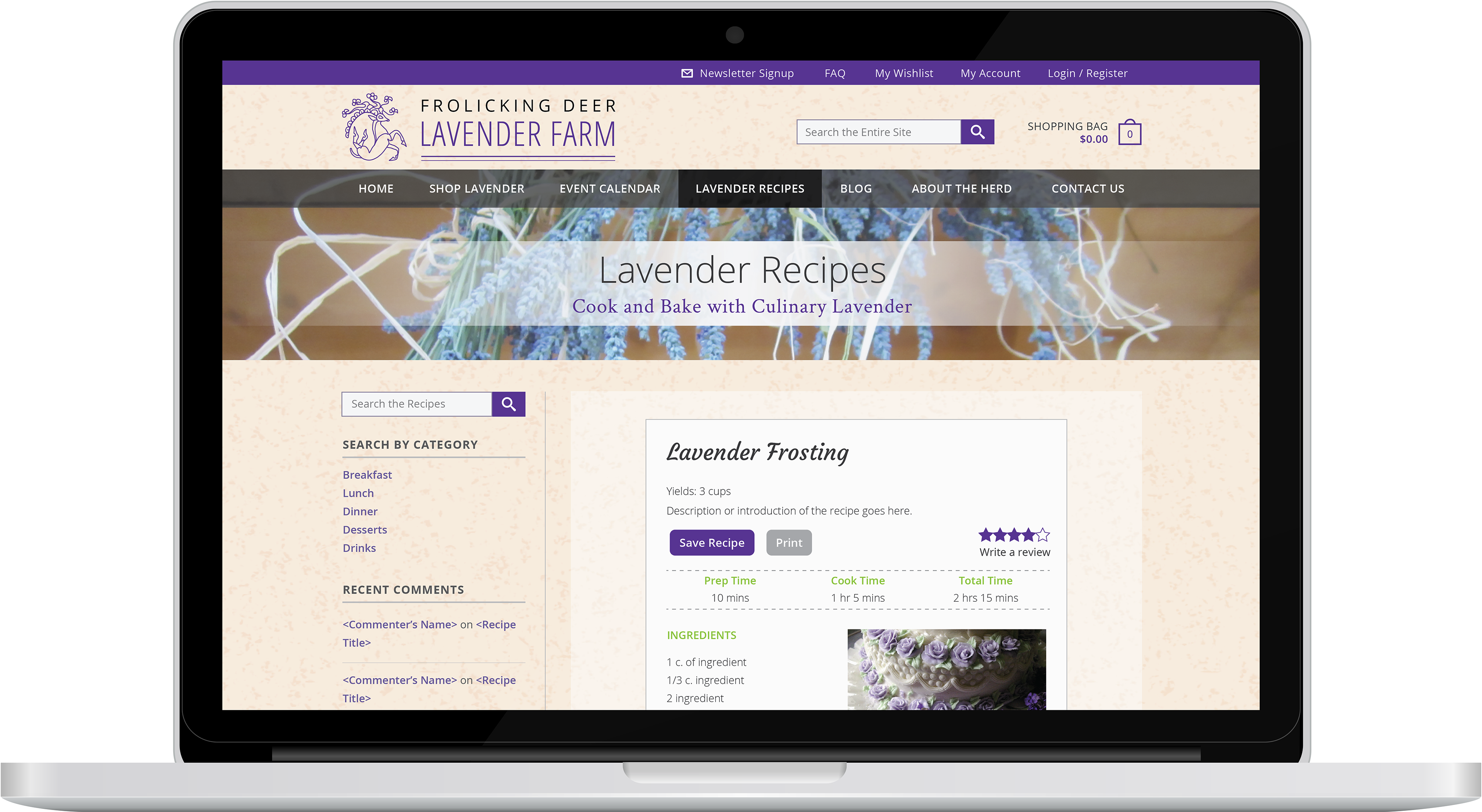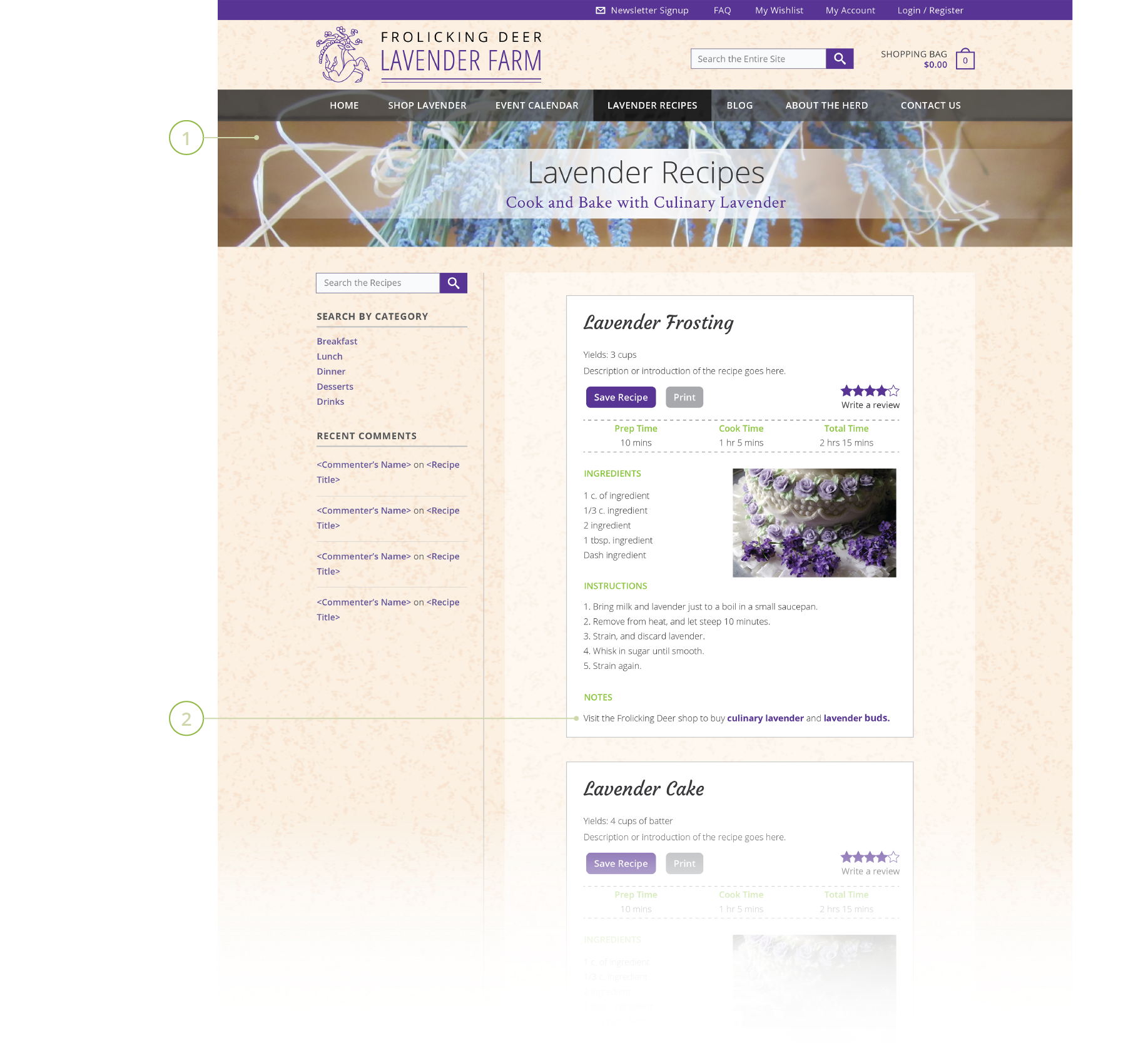 Another way to set Frolicking Deer apart from competitors is through a blog

where the owners can 

demonstrate their uniquely extensive expertise

of ancient wisdom, modern science, and natural healing. Both owners are very knowledgeable
in lavender topics. Also,
 a great amount was passed on to them from the long-standing previous owners of Frolicking Deer. They are both highly educated ─ Her: M.S. geology, Master Gardener Certified, Him:
PhD
geology (earth and environmental science), soil geochemistry, water chemistry, mycorrhizae, micronutrient (a concept of building and growing the soil along with the plants).
60% of businesses who blog acquire more customers,

according to a HubSpot survey. Also, a blog fuels SEO and is the place to share

sticky stories,

humanizing the brand

and letting the

brand's personality

shine.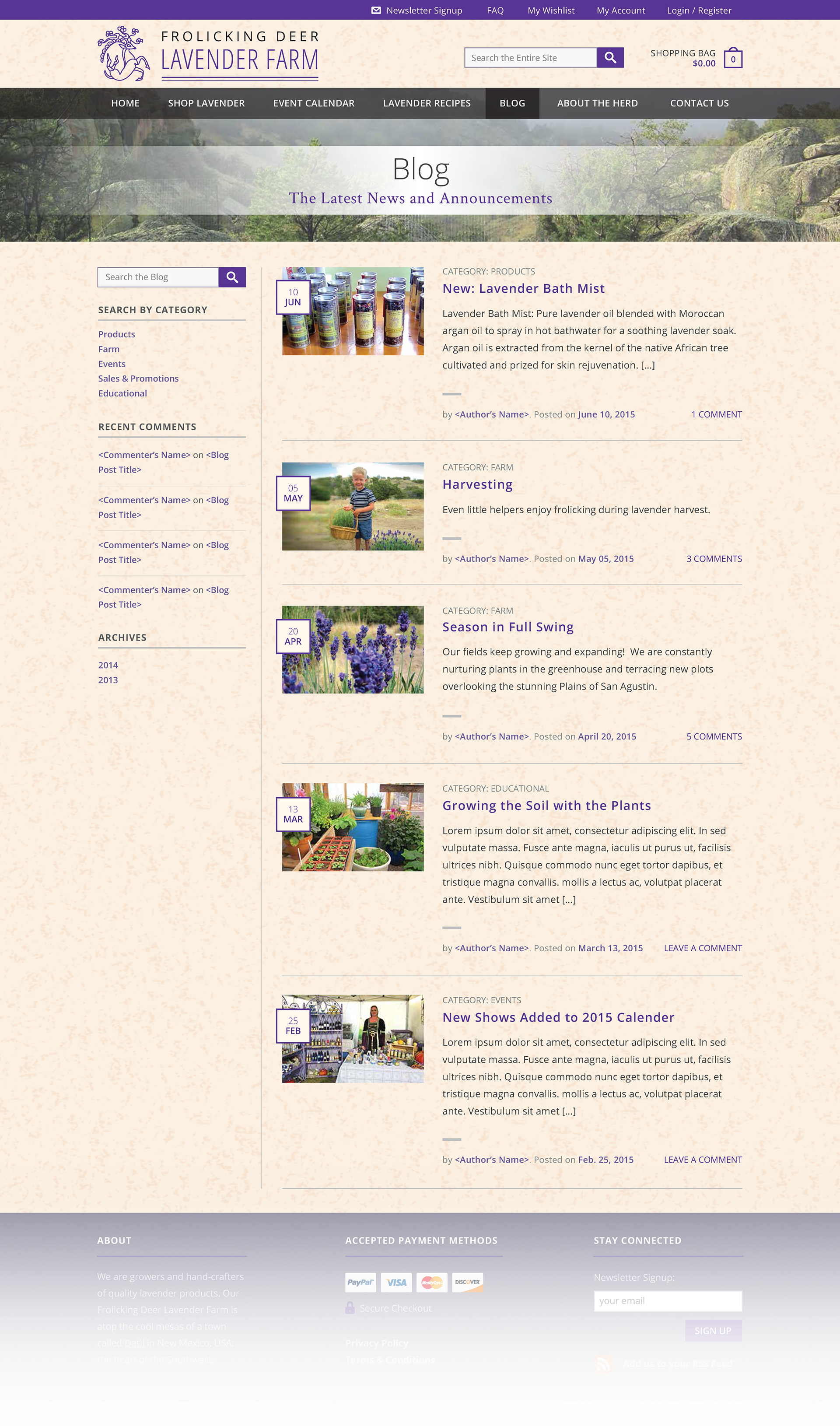 Interactivity of the

blog

page with a parallax scrolling effect on the feature image: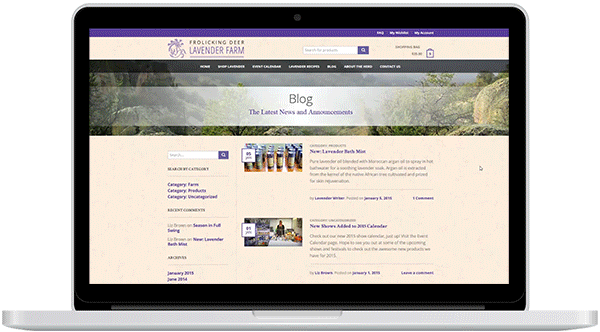 The 6 tabs on this page 
are mapped out to
 tell a compelling, intriguing story of the Lavender Farm: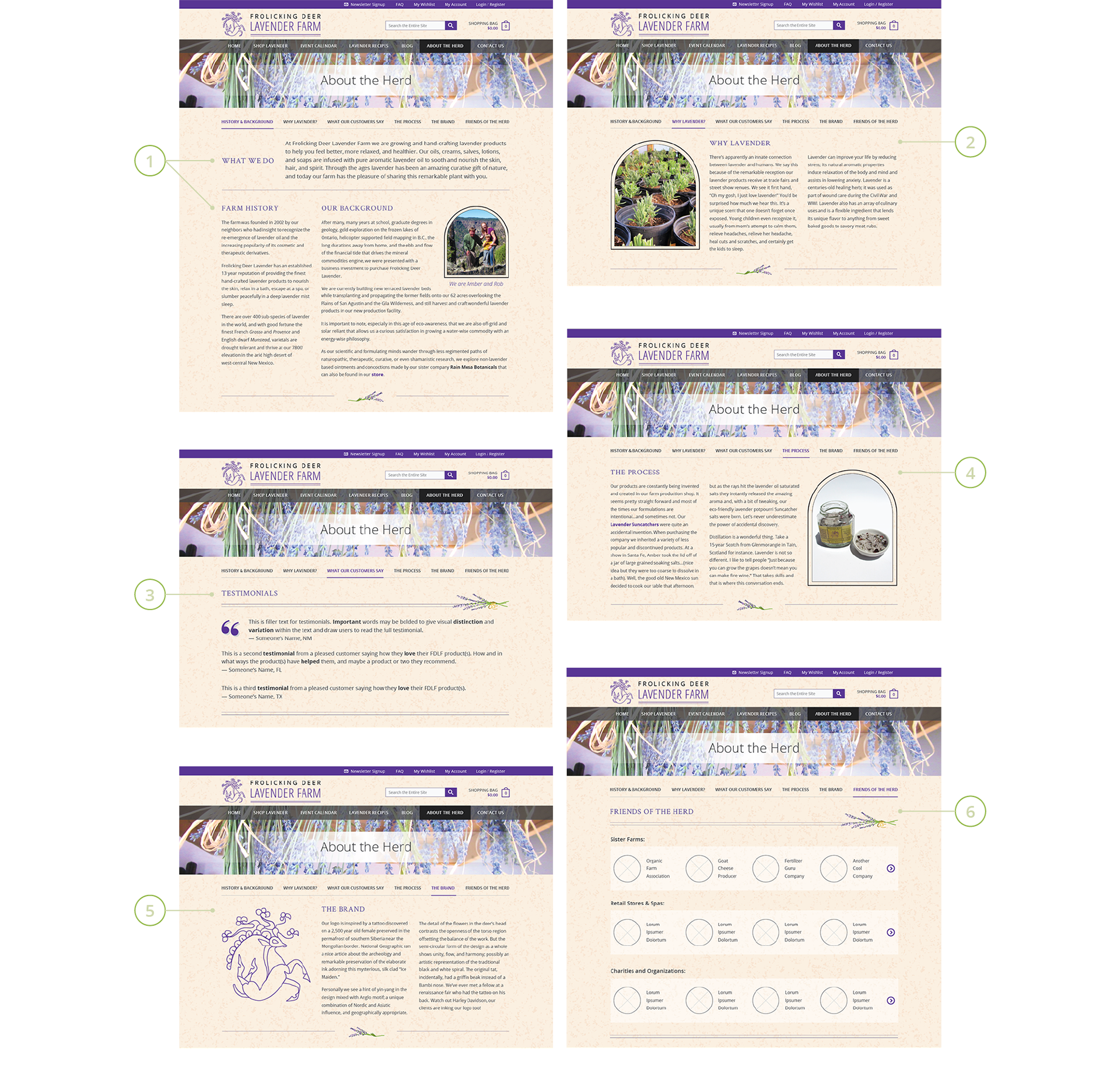 Visitors with questions are conveniently provided with FAQs first, and then the contact form (allowing visitors to avoid waiting for an email reply, and the owners from having to answer the same questions repeatedly).